The Service Monitor Eating and Drinking after Coronavirus (EDAC) survey has attracted over 38,500 responses and has been featured in multiple publications including The Caterer, The Mail Online, Catering Today and The European Cleaning Journal.
We have collected responses from a wide range of people over the age of 18; respondents aged 41 - 65 made up 58% of the sample.


We sincerely thank all our clients who have participated in making this such a respected piece of work right across the sector.
Trending headlines:
Number of guests comfortable to return to venues within 3 months has increased from 52% in late April to 76% in June
Number of customers happy to visit immediately has risen from 28% to 43%
Number of people wanting 2 metres distance has fallen from 43% to 34% - and the number of those happy with 1 meter has risen from 14% to 34%
Number of people wanting to see staff controlling customer numbers at the door has risen from 57% to 67%.
Customer fears:
We asked 'What in particular would make you feel uncomfortable during a visit to a pub, bar or restaurant':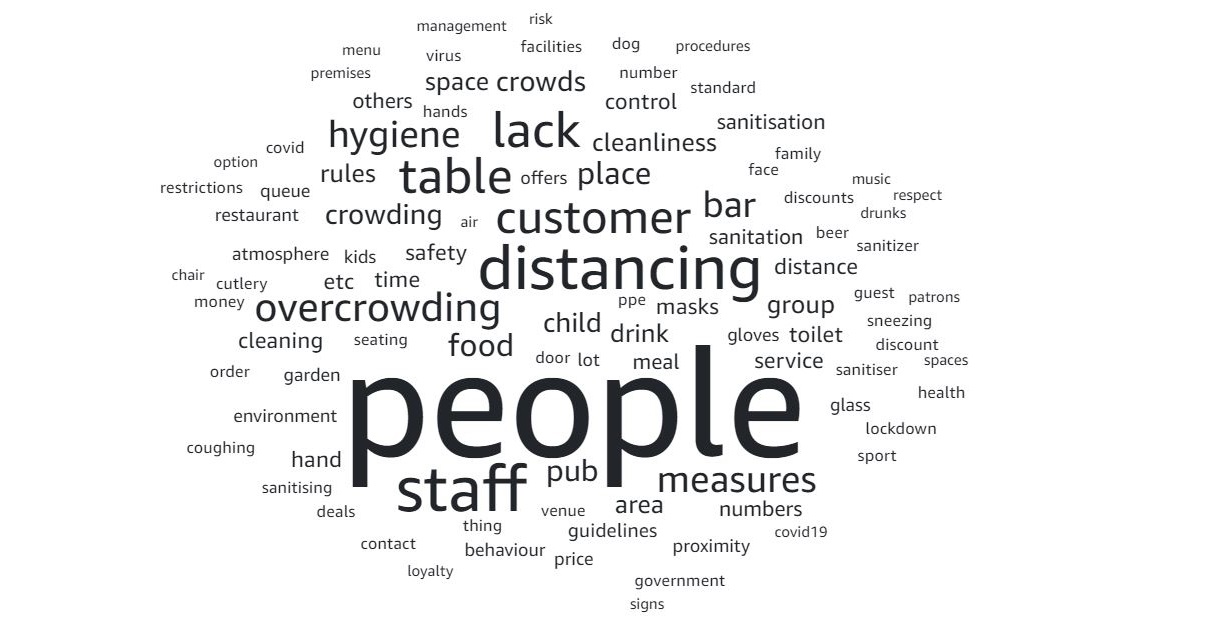 The biggest fear customers have is of other guests. They expect management to manage both the volume and behaviour of other guests.
Absolute must haves:
These expectations have been consistent since the start of the survey.
Regular and visible wiping down tables, chairs and areas people touch - 91%
All food to be under cover - sneeze guards/enclosed fridges etc. - 86%
Hand sanitiser / disinfectant wipes available throughout the venue - 83%
Compulsory hand-washing or sanitising upon entrance - 79%
Tables and chairs set up to minimise contact/communal seating - 70%
Staff controlling entry (one in one out) to keep customer numbers under control - 67%
Important but not vital:
Contactless payment for all transactions - 52%
Cash free payments only - 43%
Order at table only - no ordering at the bar - 40%
All staff should be wearing gloves / hairnets at all times - 37%
If ordering at the bar, a plexiglass shield in place - 44%
The availability of disposable / wrapped items such as cutlery / crockery / condiments etc. - 36%
Staff in face masks - 31%
Mobile ordering & payment via app - 28%
The big three most important things hospitality must offer post-lockdown:
Social distancing: 60%
Sanitisation: 48%
Great food: 38%
It's important to note that 'Great Food' is still in the top 3, so it's vital that quality does not drop whilst worrying about cleaning, distancing and enhanced sanitisation measures.
In a world with increasing economic uncertainty, customers will want to visit places that are not only safe, but also enjoyable.
Other comments:
After the lockdown is eased, 37% of respondents have stated that they would be more inclined to bring their own food to work indicating that they would be purchasing less food outside than they were before.
The most desired option is for the kitchens to operate in full capacity; reduced operation such as offering delivery only, pre-packaged or pre-prepared meals has received resistance in our sample.